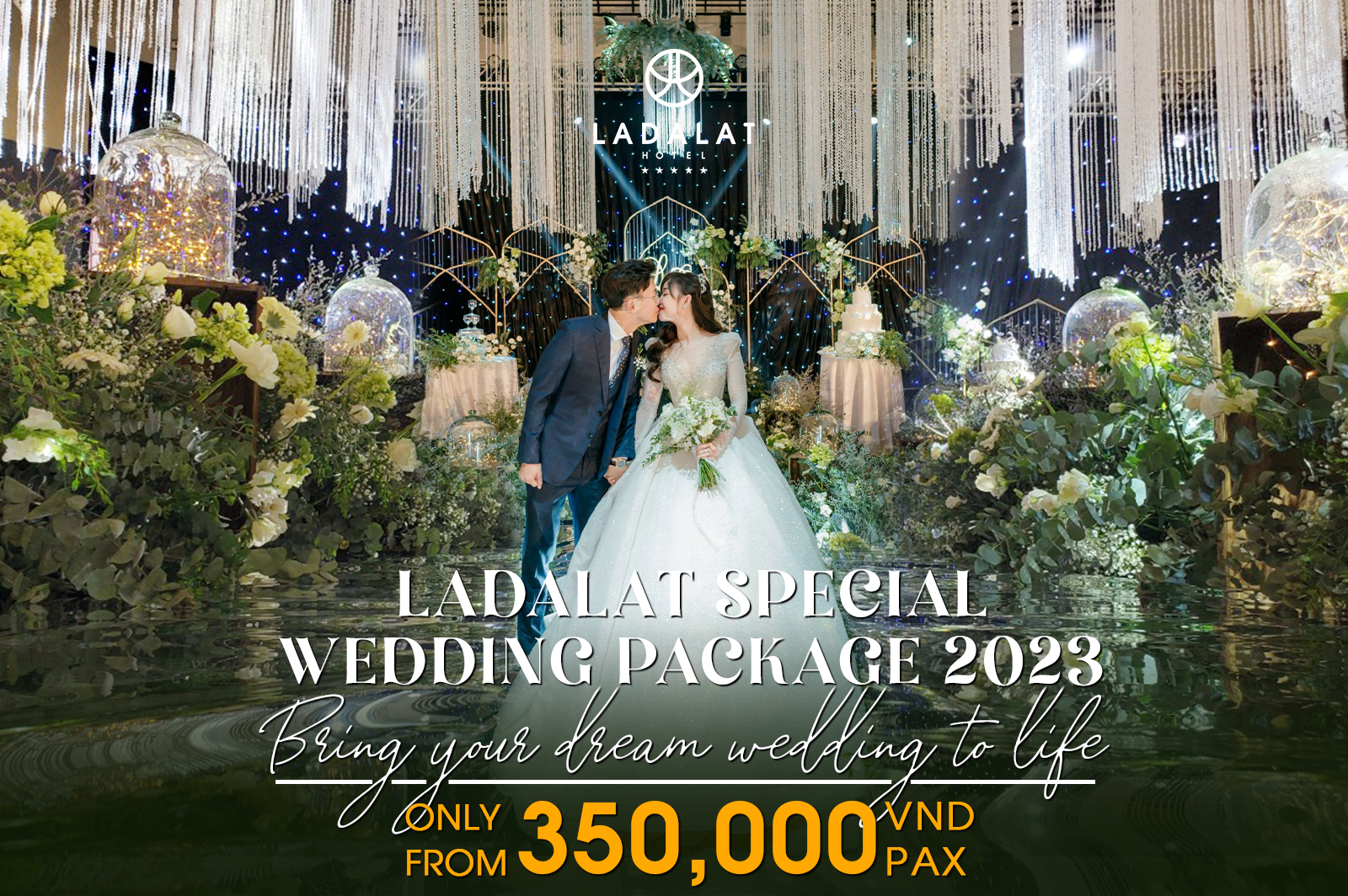 LADALAT SPECIAL WEDDING PACKAGE 2023
Why choose us as your dream wedding venue

Boasting luxurious and splendid venues, Ladalat Hotel is the ideal destination for your dream wedding. With a harmonious combination of sophisticated design, soft-lit and warm tones, and elegant decoration elements, our flexible and customizable spaces can accommodate your needs.




Learn more about promotions and offers from Ladalat Hotel: Click here

In addition, by staying up-to-date on industry trends, you can rest assured that your big day is executed with the utmost care and will come to life just as you dreamed.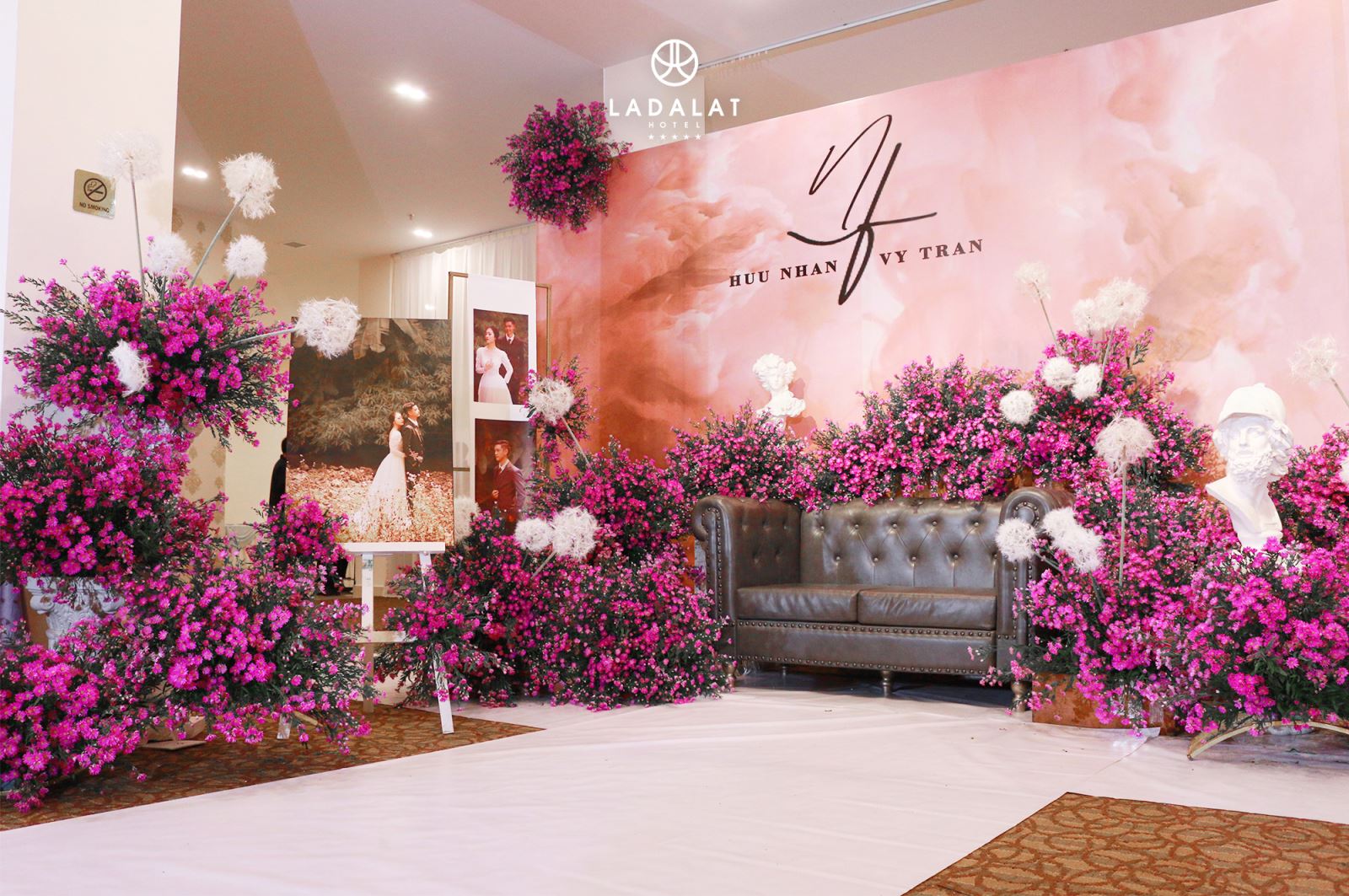 Ladalat also features state-of-the-art sound & light system and cutting-edge display technology. They play a major role inenhancing emotional experiences and making very moment on your wedding day more memorable.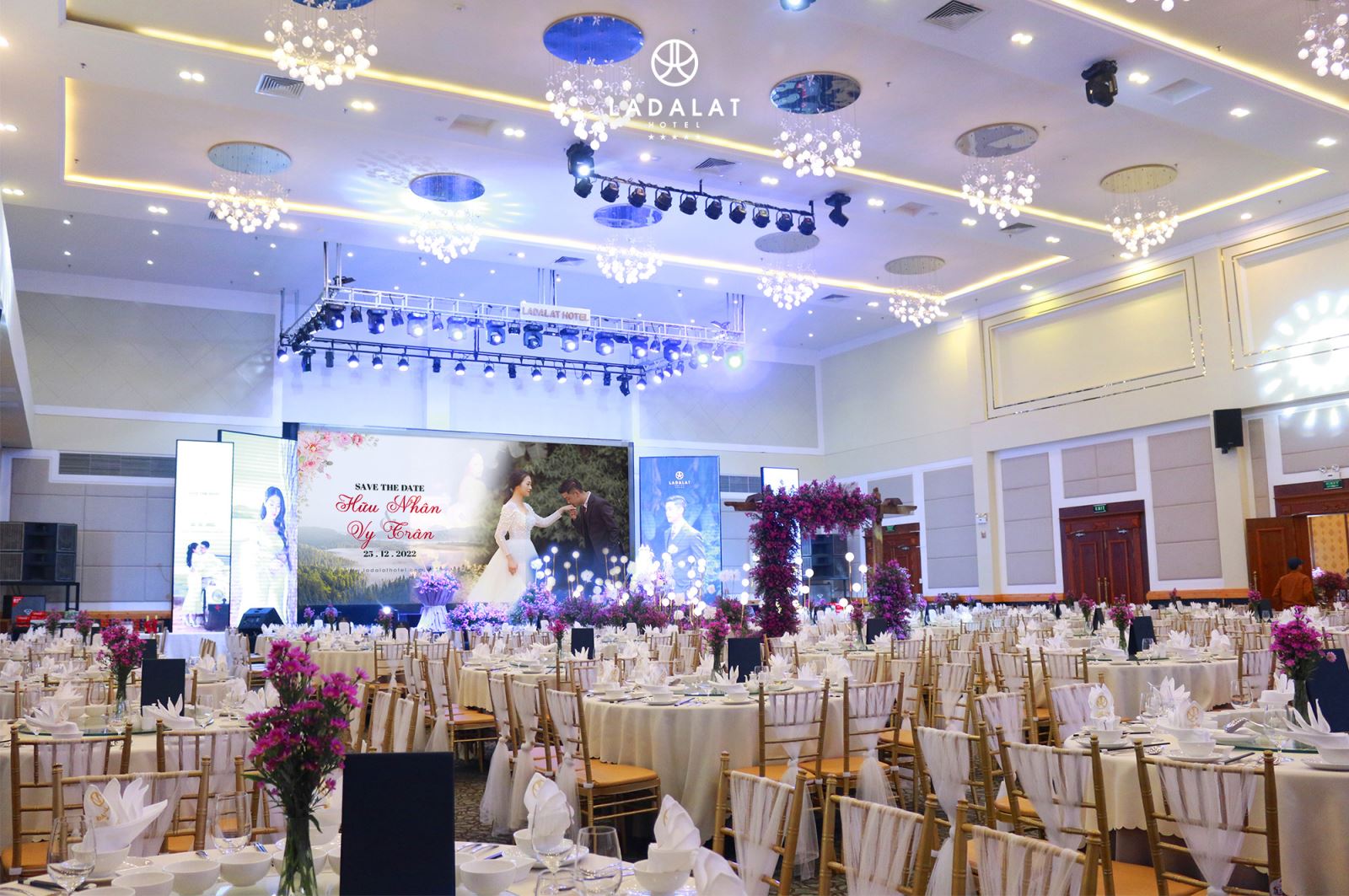 In particular, our professional, dedicated specialists and talented chefs will help you satisfy your guests with outstanding dining experiences and enthusiastic, thoughtful services.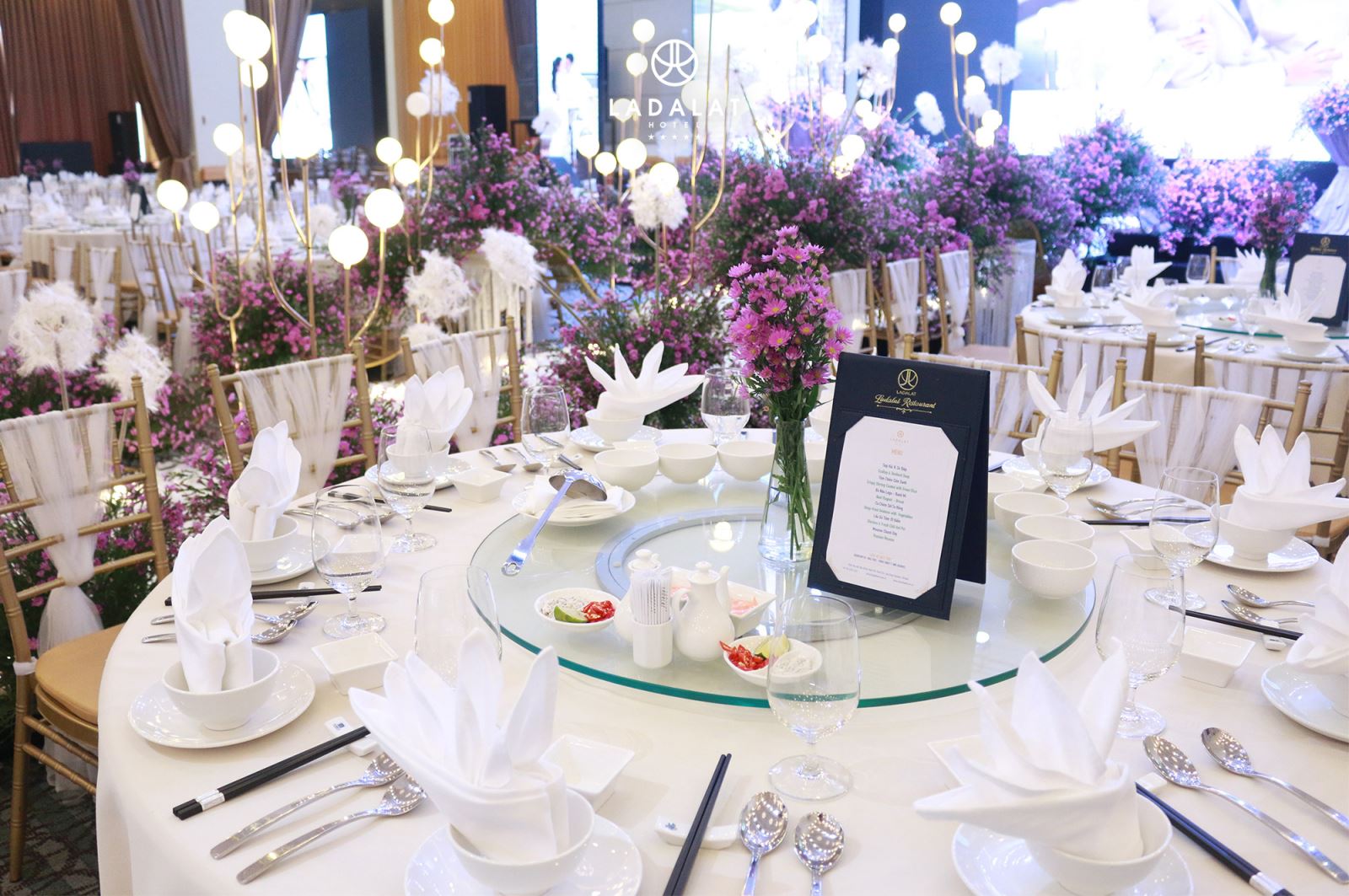 There are countless, unnamed things to take care of and decisions to make to plan an unforgettable wedding. Don't let stress and worries take over you. No matter how you picture your dream wedding, Ladalat is always here for you. Our professional wedding specialists will put heart and soul into perfecting each and every detail for your wedding to make all your dreams come true

ALL-INCLUSIVE WEDDING PACKAGES: ONLY FROM 350,000 VND/PAX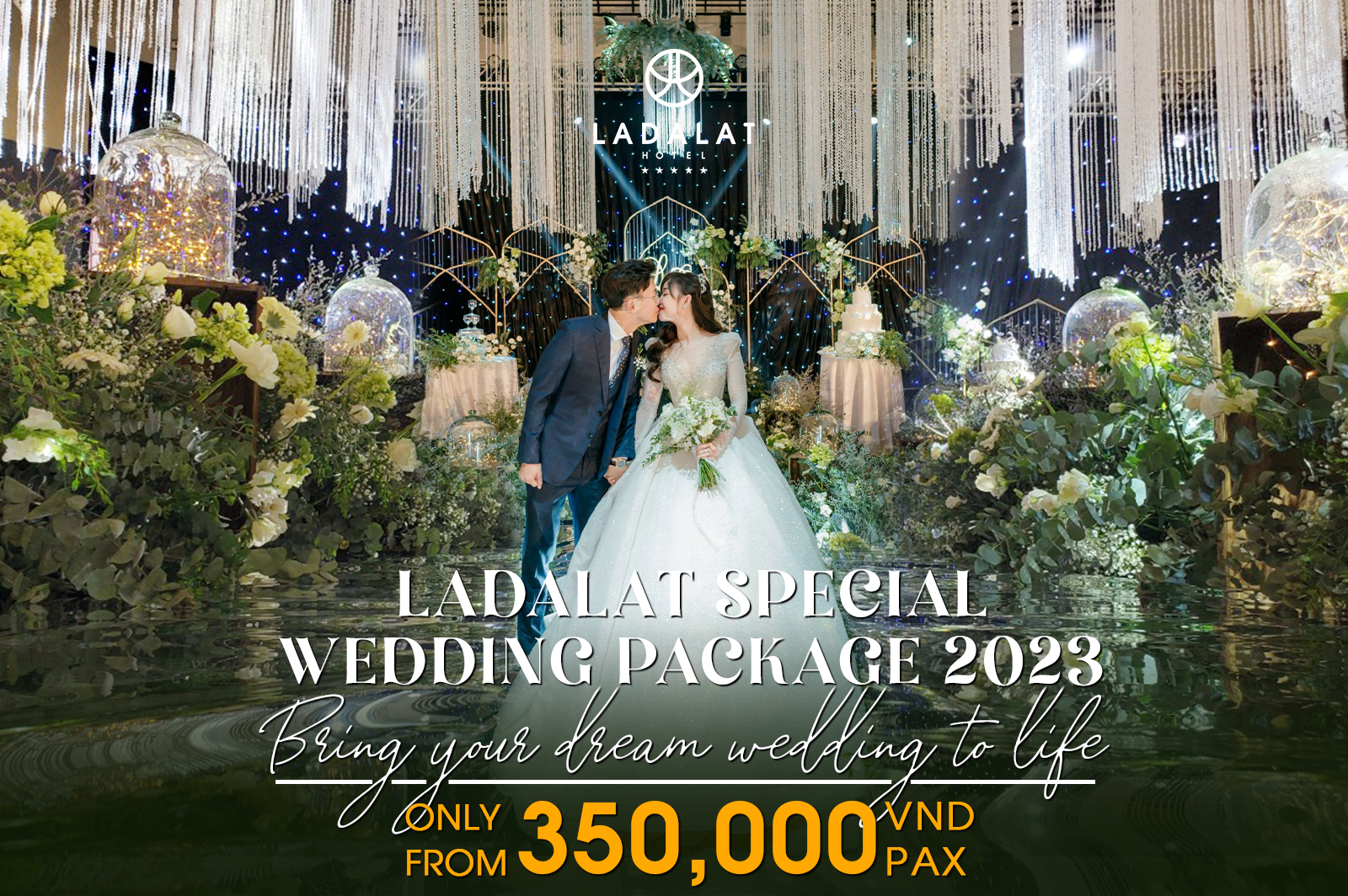 Taking the first steps of your happy marriage in a glorious, luxury space that is decorated with flowers, candles and delicate decoration elements
Enhancing emotional experiences and making every moment of your wedding sublimated, impressive and memorable with the use of modern technology
Conquering all guests with exquisite wedding menu and professional, dedicated services
Special Wedding Package - Only From 350,000 VND/PAX
Complimentary indoor and outdoor settings for your pre-wedding photography
Pre-dinner refreshments for Bride & Groom on wedding day
Wedding Menu Tasting (exclusive of beverages) *
Angel Beauty Spa Voucher value VND 1,800,000 *
Entertainment Voucher at Ladalat Hotel value VND 1,000,000
Special souvenirs to couple
(*More than 300 guests)


Diamond Wedding Package - Only From 350,000 VND/PAX
Complimentary indoor and outdoor settings for your pre-wedding photography
Pre-dinner refreshments for Bride & Groom on wedding day
Wedding Menu Tasting (exclusive of beverages)**
Angel Beauty Spa Voucher value VND 1,800,000**
Food & Beverage Credit Voucher value VND 1,500,000
Entertainment Voucher at Ladalat Hotel value VND 1,000,000
Special souvenirs to couple
(**More than 500 guests)

The package is applied to new weddings confirmed and organized until 31/12/2023.
Finally, you have found the right person, who you want to spend the rest of your life with. Why are you still hesitating? Contact us today and let Ladalat assist in every detail of your wedding to enhance the completeness of your celebration and make your once-in-a-lifetime event perfect with marvelous moments that will last your whole life long.

CONTACT NOW
(+84) 26 3356 6633 - (+84) 28 6255 6633