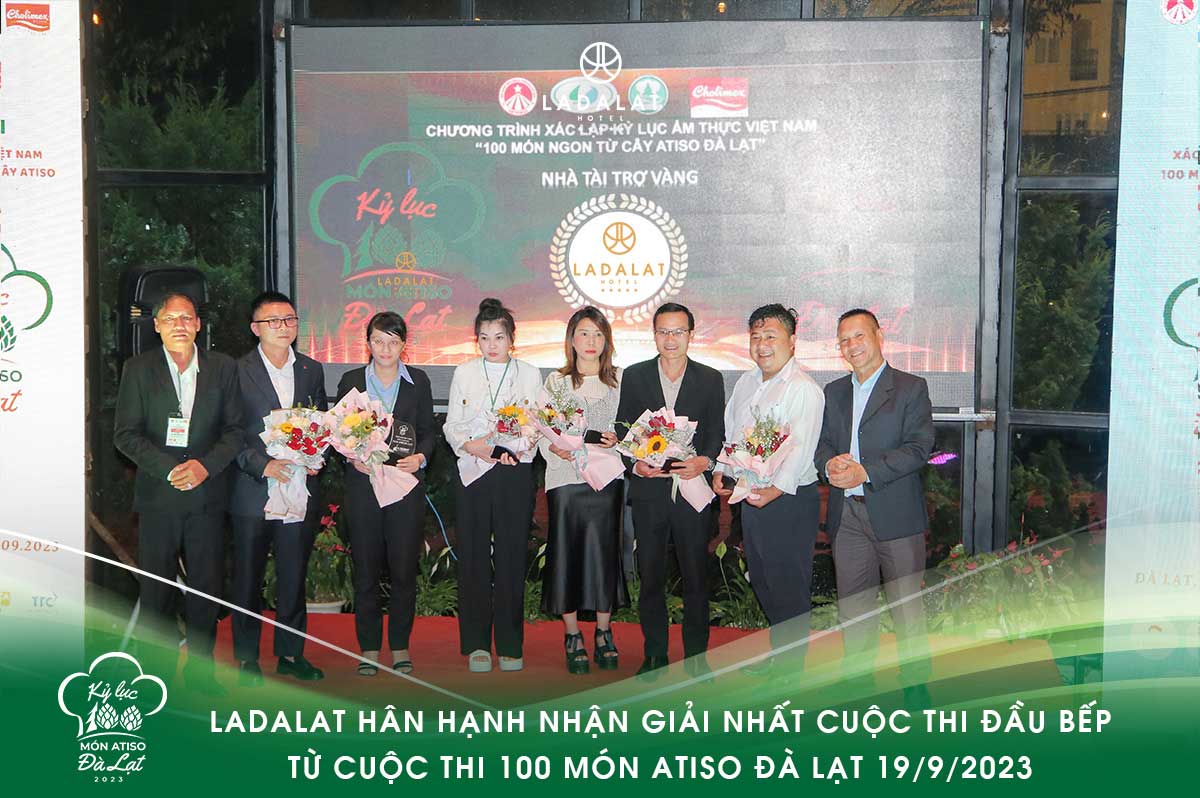 LADALAT WIN THE 1ST PRIZE IN THE COOKING CONTEST
The contest with the participation of more than 60 professional chefs from localities across Vietnam has taken place in the Valley of Love on September 19.
On September 19, at the Valley of Love in Da Lat, the Lam Dong - Da Lat Tourism Association organized a performance competition to set the record for cooking 100 artichoke dishes to spread Vietnamese cuisine throughout the world. The contest drew the participation of 20 teams. Each team consisted of 3 professional chefs from localities across Vietnam.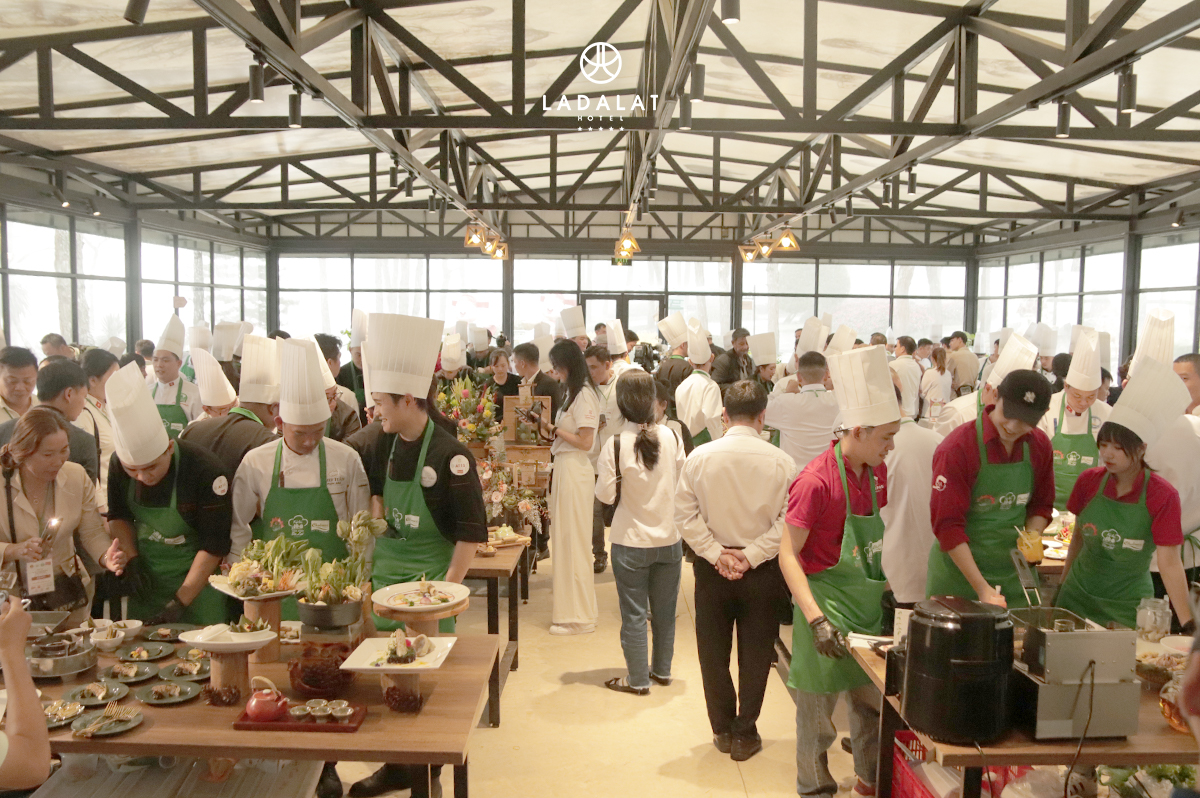 According to Mr. Nguyen Huu Huong, Chairman of the Professional Chef Association of Lam Dong province and the head of the jury, the event was held to celebrate the 130th anniversary of the establishment of Da Lat city and promote agricultural products of Da Lat, including artichoke.
The contest was also an opportunity for professional chefs to connect nationally, network, learn from each other and develop their culinary skills. The event and twenty teams set a Vietnam record for cooking the largest number of artichoke dishes at one time.
Artichoke is not only a valuable medicinal plant but also food originating in Europe and cultivated in Da Lat for nearly 100 years. They may improve several aspects of health, including improving gallbladder and kidneys, liver detox, body purification, preventing atherosclerosis and reducing cholesterol…
In recent years, dishes made from artichokes have been become high-end dishes of Vietnamese cuisine. In early April, the Asian Records Organization recognized 9 new Asian records for Vietnamese dishes and groups of dishes/ specialties, including Da Lat artichokes.
The popular way to use artichokes is to make tea and cook some simple dishes. However, with artichokes as the main ingredient, chefs skillfully make a multitude of delectable dishes, blending unique Asian and European flavors such as sturgeon cartilage artichoke soup, artichoke chicken hotpot, artichoke mooncakes, H'Mong chicken stewed with artichokes….




Twenty teams have brought exquisite dishes made from artichoke to the contest. Thereby, they have contributed not only to promoting Da Lat artichokes but also to preserving and promoting the quintessence of Vietnamese cuisine to the world.
They have put their heart and enthusiasm into every dish to make more than 100 beautiful and delicious dishes and to prove that Vietnamese cuisine is not a simple dish but also a symbol of cultural expression and expression of love of the homeland.

The contest has found the qualified teams as below:

1. FIRST PRIZE: LADALAT HOTEL
With the perfect combination of artichokes and traditional ingredients, Ladalat Hotel has brought an unforgettable culinary experience with 5 best-rated dishes that are testament to the sophistication and creativity in the art of cooking.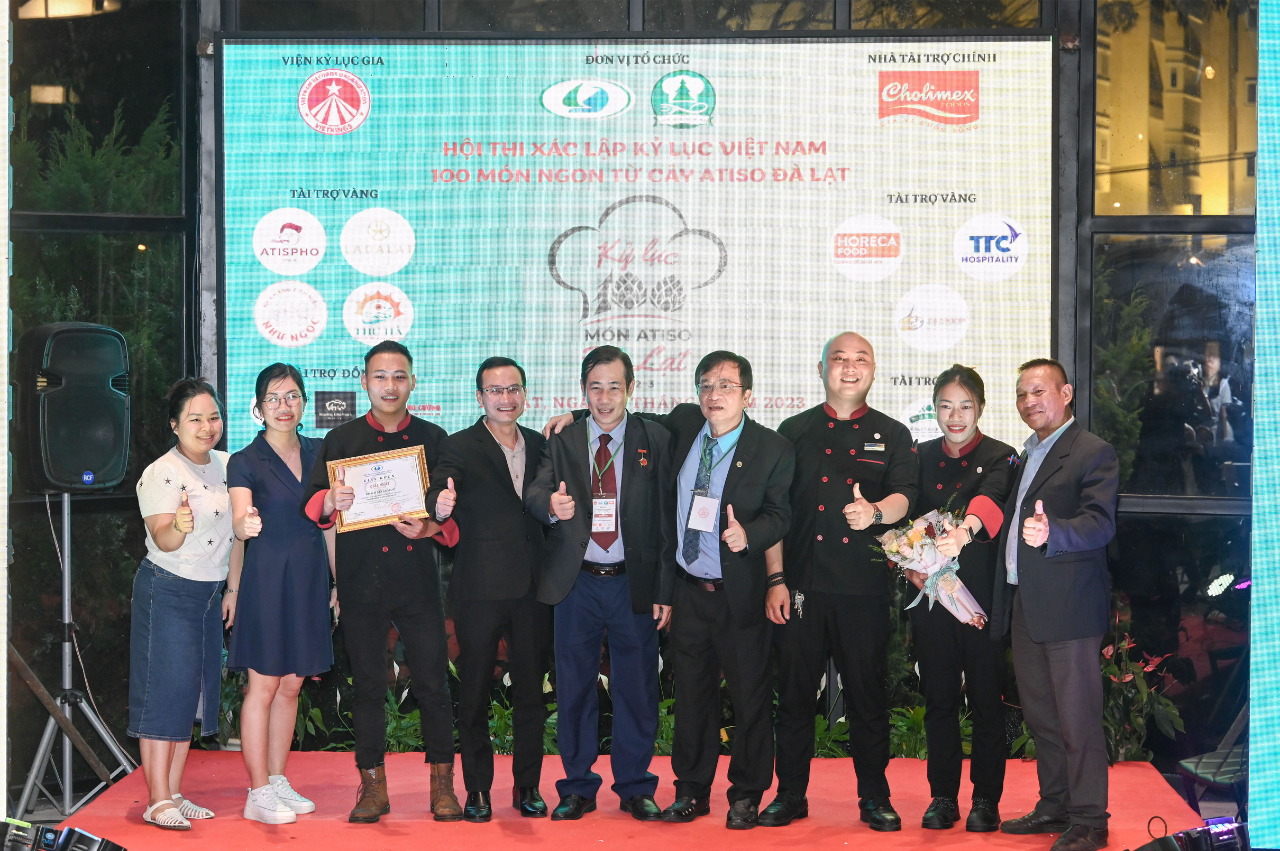 List of contestants:
NGUYEN DOAN PHI HUNG
NGUYEN THI DUNG
DANG VU HOANG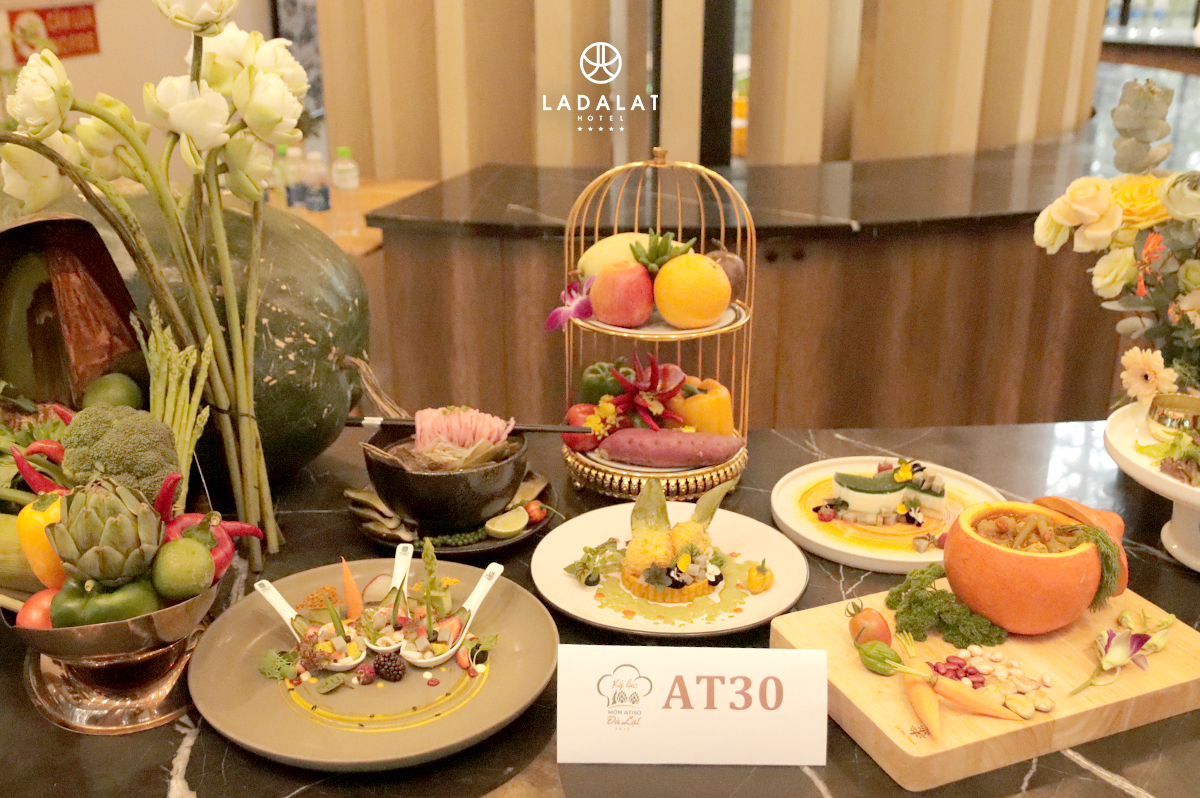 List of delicious dishes that won the first prize in the contest:
Mixed salad with Seafood, fruits and artichoke
Multi-Flowers Atiso
Macrobiotic artichoke Pho
Chicken and artichokes stew
Artichoke mousse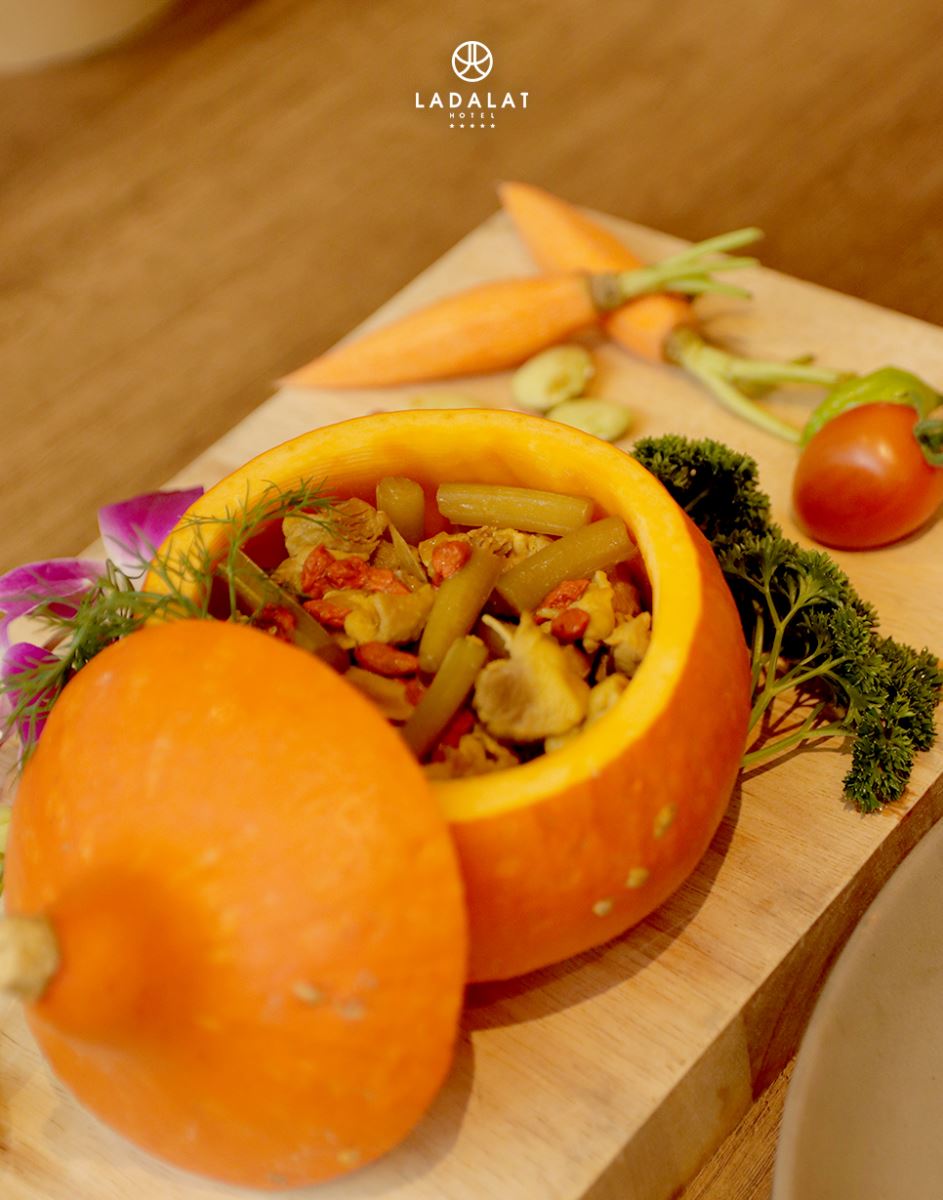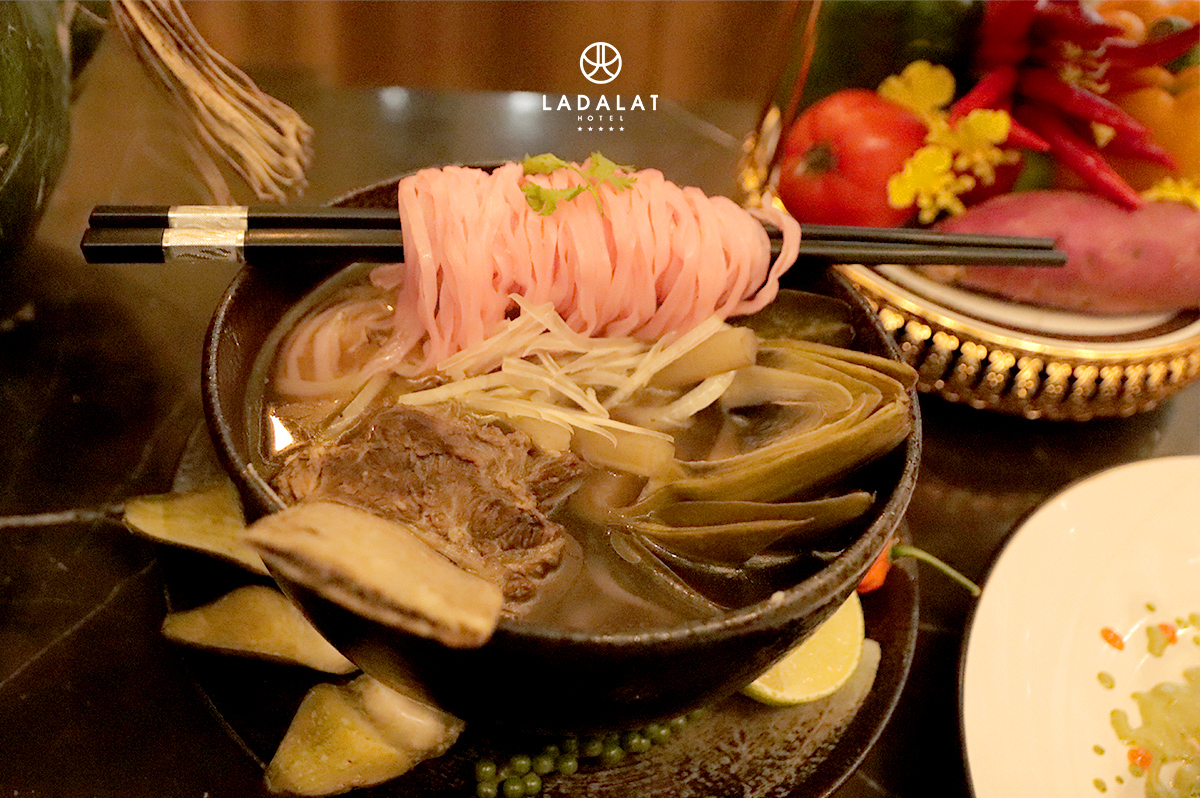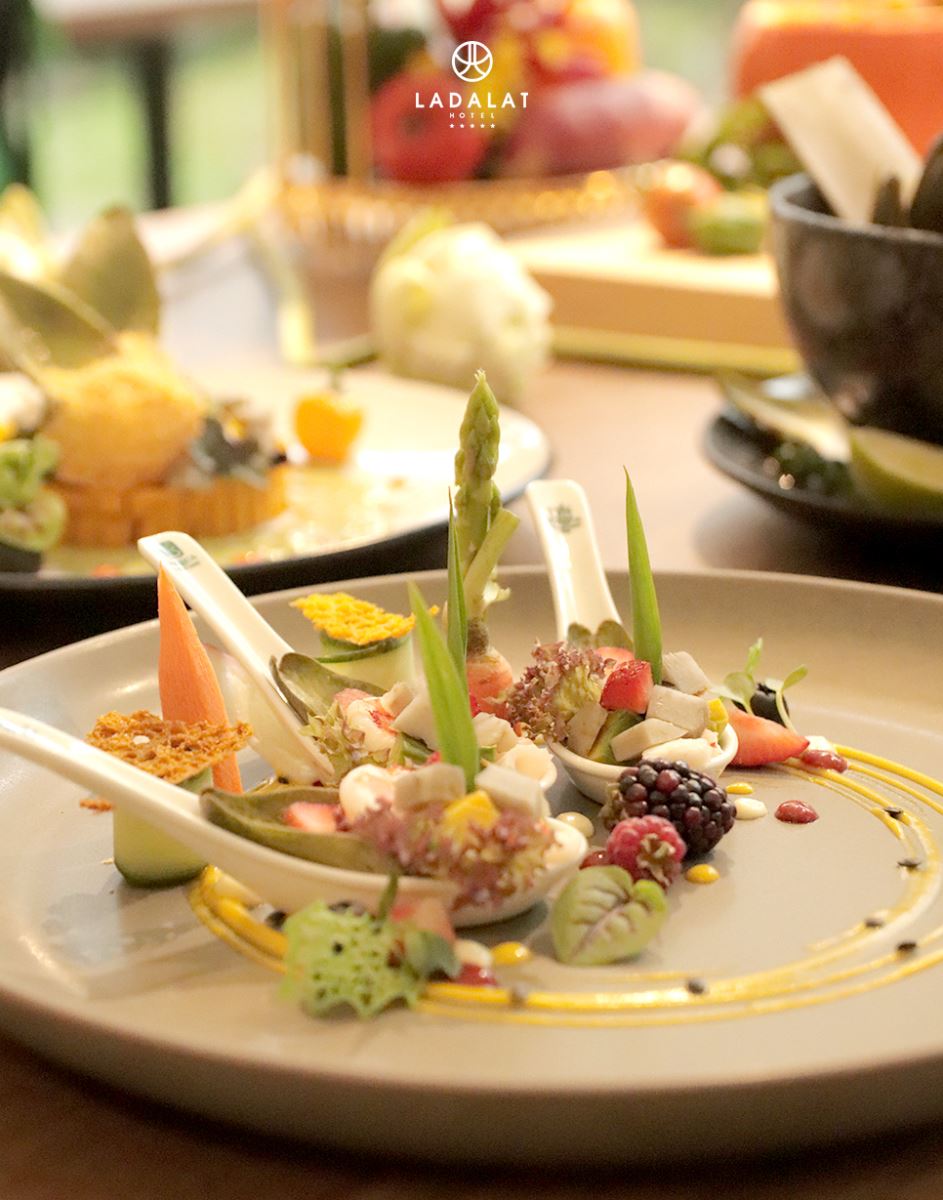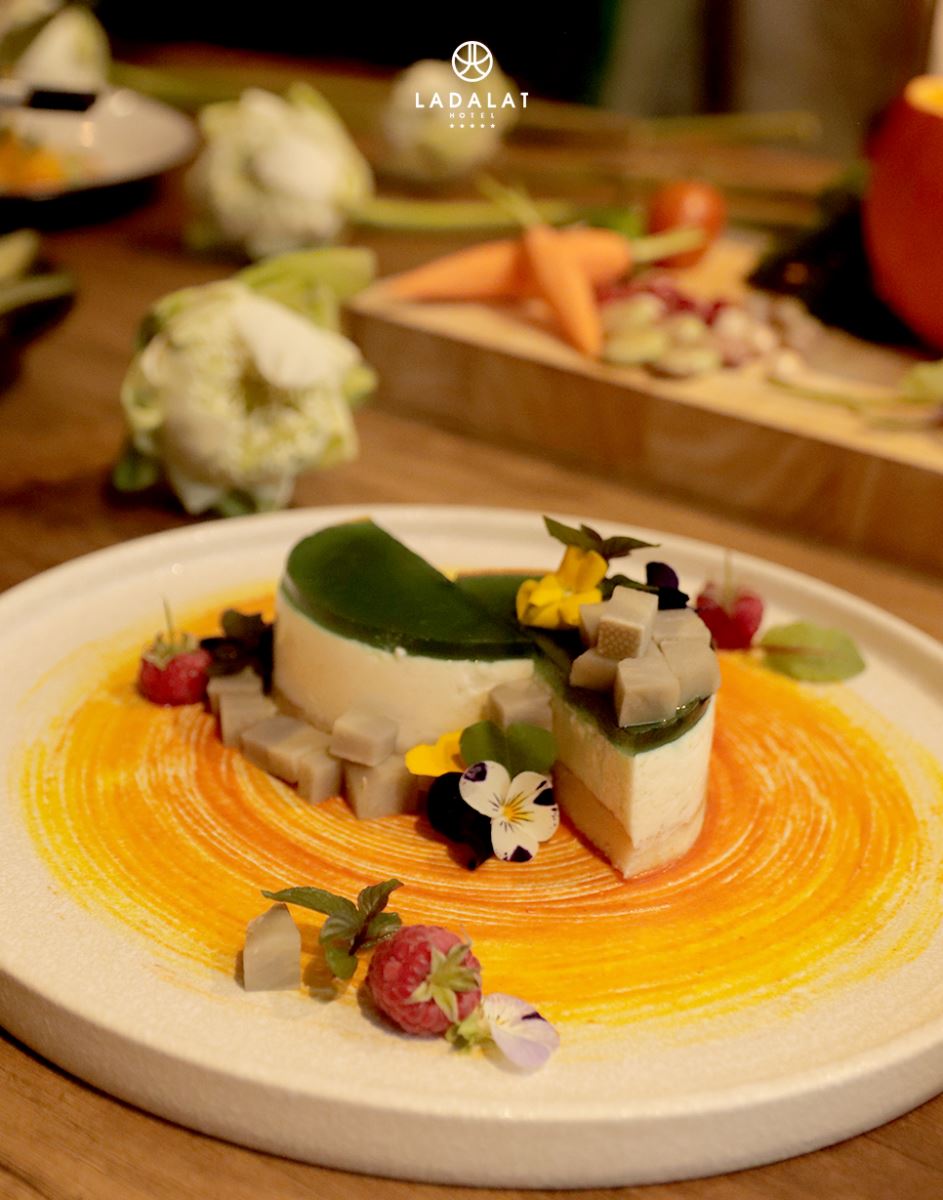 List of 02 teams that won the
2. SECOND PRIZE GOLF VALLEY HOTEL
The team has made 5 nutritious and delicious dishes that are the great combination of artichokes and Da Lat spices and herbs.
List of contestants:
NINH THE DONG
TA DUC BAN
TRAN THI THY
List of delicious dishes that won the second prize in the contest:
Mixed salad with artichoke and tuna
Pan-fried scallops, artichokes mash with caviar
Pigeon, artichoke & fresh ginseng stew
Roasted artichoke and beef marrow with coriander
Artichoke sweet soup and artichoke macaroons
3. 1992.75 NHAT TRUONG CUU NHI FOOD JOINT STOCK COMPANY – ATISPHO
The Atispho has proven that cuisine is the art of both cooking and performance. Each dish is elaborately decorated and presented that amazes everyone.
List of contestants:
TRANG TRUONG MINH
NGUYEN THANH TU
KIEU THI KHANH LINH
List of delicious dishes that won the second prize in the contest:
Da Lat Artichoke Pho
Beef shank and artichoke salad
Beef rolls with artichoke and cheese sauce
Tempura artichoke
Red artichoke ice cream
List of 03 teams that won the THIRD PRIZE
THE PROFESSIONAL CHEF ASSOCIATION OF DAK LAK PROVINCE
TTC DA LAT
MEMORY RESTAURANT
List of 04 teams that won the CONSOLATION PRIZES
ANA MANDARA VILLAS DA LAT RESORT &SPA
BONPY PHU YEN RESTAURANT
HOANG KIM PHAT COMPANY
THE PROFESSIONAL CHEF ASSOCIATION OF BEN TRE PROVINCE
The teams rewarded for great food presentation
DALAGROUP DA LAT COMPANY**
DA LAT CHEF GROUP
CHEF TUAN DA LAT
List of teams that won the creativity awards
THE PROFESSIONAL CHEF ASSOCIATION OF TIEN GIANG PROVINCE
THE PROFESSIONAL CHEF ASSOCIATION OF LAO CAI PROVINCE
LEGUDA DA LAT RESTAURANT
Congratulations to the winners and all teams and contestants who have participated in the contest. Congratulations to the Professional Chef Association of Lam Dong province on organizing such successful competition. Hopefully, we will have many other opportunities to savor creative and delightful culinary creations of talented Vietnamese chefs.